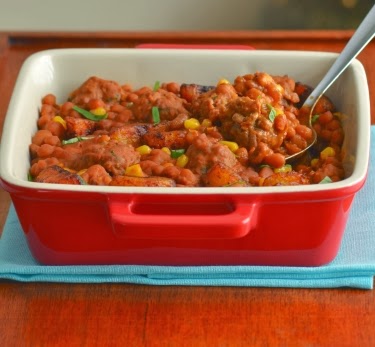 Ingredient List
400g of minced lean beef
100g of sweet corn (canned or frozen)
Finely chopped fresh basil
Fresh thyme
Black pepper
1 egg white
2 very ripe plantains
3 cups of Nigerian Brown Beans (Oloyin type)
1 large onion (finely chop)
1 jar of Molli's Jollof cooking sauce (alternatively use some left over tomato and red pepper sauce or chilli powder. You can also use freshly blended tomatoes, peppers and onions)
Salt and brown sugar to taste
100ml or 2 serving spoons of coconut oil
Preparation
Place the minced meat into a large mixing bowl. Add a handful of fresh basil and a pinch of fresh thyme leaves. Add some salt and freshly milled black pepper and mix thoroughly. Add the white of one egg to bind. Mix all ingredients together. Scoop small portions and mould into balls. Set aside for about 20 minutes.
Ensure that the beans have been picked to remove all traces of chaff, stones and other debris. Rinse in fresh water about twice.
Pour the beans into a large pressure cooker and add enough water to cook them, about 1 litre (or more as you prefer. the amount of water used will dictate how thick the end product is). Also add the chopped onions and some salt. Cover the pressure cooker and cook beans for about 25 minutes (or until beans become just soft to the touch).
Then turn off the heat and carefully open the pressure cooker. Add the the sweetcorn and Jollof cooking sauce to the beans and return the pressure cooker (un-covered) to the stove. Allow to cook on low heat for about 5 minutes.
In the meantime, pan fry the meatballs (or alternatively grill them but take care not to burn them or dry them out.)
Then add the cooked meatballs to the beans. Stir well.
Finally add the oil, 1 spoon of brown sugar (use more or less as you prefer), some salt and stir in. Taste for salt. Also if necessary, add some hot water to adjust constituency and avoid burning.
Simmer for a further 10 minutes to allow the meatballs to heat through.
While simmering the beans, slice the plantains and shallow fry for about 5 minutes. Drain excess oil using some kitchen roll.
Plate the beans into a dish and top with some fried plantains. Garnish with sliced basil.
Keep warm in an oven until served.