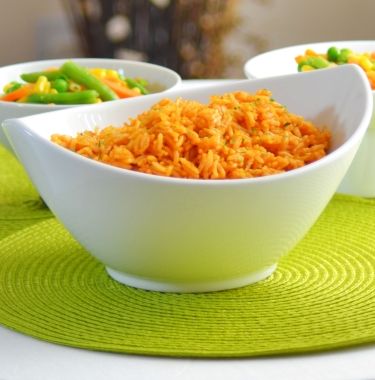 Ingredient List
2 cups (500g) easy cook basmati rice (Soak rice for about 10 minutes and rinse to remove excess starch. This will also reduce stickiness when cooked.)
4 large plum tomatoes or 1 can of plum tomatoes
1 large sweet red pepper, remove stalk & seeds
1 scotch bonnet (yellow), remove stalk & seeds (optional)
2 tablespoons tomato paste
5 sprigs of fresh thyme
2 teaspoons freshly milled or ground nutmeg
1 teaspoon of ground pimentos
A small piece of ginger or 1 teaspoon ground ginger
1 teaspoon curry powder
2 cups of good quality chicken stock
1 medium sized onion
3 serving spoons of butter (not margarine)
1 crayfish flavour seasoning cube or 1 tablespoon of ground crayfish (for that traditional taste) optional
1 teaspoon of smoked paprika to create the traditional smoky flavour (optional)
1 serving spoon vegetable oil
Freshly chopped chives (to garnish)
Salt to taste
Some hot water
Preparation
Blend the tomatoes, pepper, scotch bonnet (if using) and onion in a liquidizer. Simultaneously, gently heat the oil in a large pot and add the fresh thyme, nutmeg, pimentos, garlic powder and curry powder. Allow the spices to infuse for about 2 minutes then pour the blend. Now add the chicken stock, one cup of hot water and bring to the boil. Pound the ginger, add and stir. Also add the tomato paste and allow to boil for 3-5 minutes under high heat.
Turn heat down and slowly introduce the washed rice, stir in. Add just enough hot water to cook the rice, cover pot first with a sheet of foil paper and then with the pot lid. Allow to steam for about 10 minutes.
Open pot and check if rice is cooked. Add more hot water if required to cook the rice till tender. (To avoid over cooking the rice, add a little quantity at a time). When all water/moisture has evaporated, gently stir rice avoiding scraping the bottom of the pot. Crush and sprinkle the crayfish cube or the ground crayfish. Stir well to distribute seasoning, then taste for salt, (use more or less crayfish depending on preference). Add the butter and stir in. Cover pot tightly and simmer for a further 5 minutes to allow the flavours develop.
Jollof rice is typically served with fried chicken and fried plantain. You can vary this by serving with stewed fish or meat and steamed vegetables or other exciting side dishes like moin-moin, mashed up beans or a nice crisp salad.
Vegetarian option: cook with vegetable stock instead of chicken stock. Serve with steamed mixed vegetables.