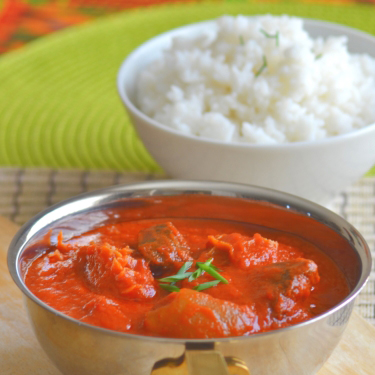 Ingredient List
300g beef, trim & cut into bite size pieces,wash
300g cow-foot, ask your butcher to cut into bite size pieces. wash (optional, alternatively use more beef)
300g honeycomb tripe, cut into small bite size pieces, wash (optional, alternatively use more beef)
1 large red sweet pepper, remove stalk & seeds. Cut into quarters, wash (you can use more or less. the more used the thicker your sauce)
1 small (yellow) scotch bonnet, remove seeds (optional)
6-8 medium fresh tomatoes (or 2 tins of peeled plum tomatoes)
1 medium sized onion, peel and cut into quarters
100m1-150ml vegetable or blended olive oil
1 sprig fresh thyme
1 teaspoon curry powder
1 clove of garlic, crush
1 stalk of spring onions, chop
Preparation
Advance prepping: Cook all meat pieces in advance of cooking the sauce.
Place beef pieces in a bowl. Add some salt, thyme, curry powder and garlic. Work spices into meat and let marinate for at least 30 minutes. Then add about two cups of water and boil until just tender, not too soft. Cool, remove meat pieces, sieve and retain stock for later use.
Place the cow-foot into a pressure cooker, add some water and salt and cook until very tender. Remove bones and further cut into small bite size pieces if required. Set aside for later use.
Season the tripe pieces with some salt, thyme and curry powder and in a separate pot, cook for about 30 minutes until just tender, not too soft. Set aside.
Place the cooked beef and tripe pieces in a baking tray and grill for about 15 minutes. Alternatively, the meat pieces may be fried briskly if that is your preference. This process helps to dry out the meat pieces a little to give a slightly tough dry texture. Nothing to worry about as the meat pieces will become juicy again once introduced into the sauce!
Place the tomatoes, peppers, onion and scotch bonnet (if using), in the blender and blend till smooth. Heat oil in a sauce pan and add the blend. Add the stock, stir. Add some water, (about 2 cups, depending on the amount of stock you have used.) Allow to cook for 10 minutes under high heat then turn heat down and simmer for 20 minutes.
Add the meat and tripe pieces to the simmering sauce and stir. Also add the cow foot pieces. Stir gently, and check for salt. You may also add your preferred bouillon cubes to enhance taste
Allow sauce to simmer for a further 10 minutes or until all the meat pieces become tender to your preference. Also add some hot water to adjust thickness.
Garnish with spring onions and serve with boiled rice. Can also be served with vegetable soups and pounded yam, boiled yam, pasta or bread.