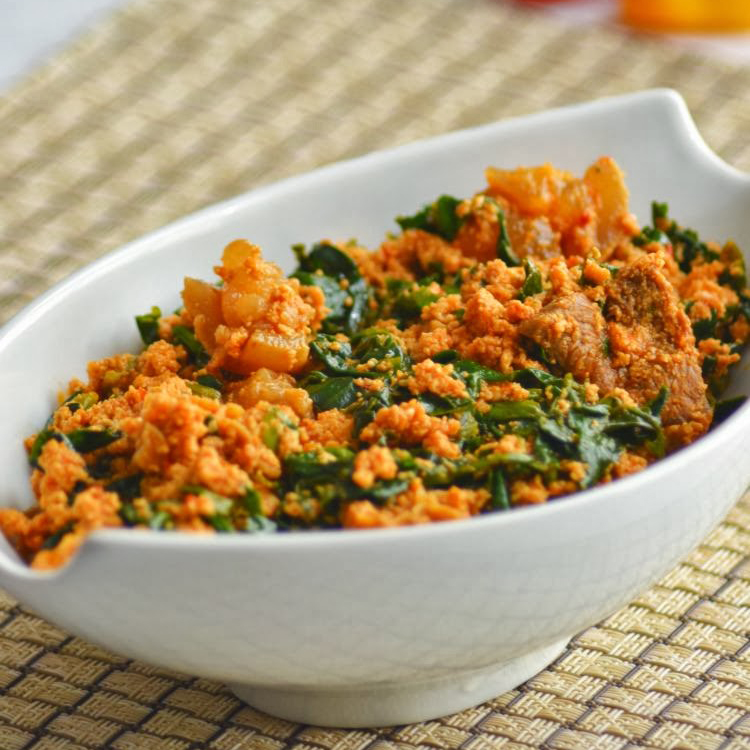 Ingredient List
200g of ground melon seeds
1 large onion, cut into quarters
3 large tomatoes
1 small yellow scotch bonnet, remove seeds (use of scotch bonnet is optional. You an use more or less depending on your preference)
Assortment of previously cooked tripe, cow-foot and beef. (Season each meat type with some salt and onions, some water and cook separately until really soft and tender. Ensure meat pieces are cut into small bite-size pieces.) Vary quantity according to your preference.
Some flaked smoked haddock or cod. (Stock-fish is traditionally used)
100ml palm oil (use your preferred oil if you are unable to get palm oil)
2 bunches fresh broad leaf spinach. Wash and pick leaves, shred coarsely. Blanch in salty water for no more than 2 minutes. Drain and set aside till needed.
2 cups of chicken stock
1 small red onion. Finely chop
1 tablespoon of locust beans paste or 1 dadawa cube (optional)
2 tablespoons ground smoked crayfish
Preparation
Coarsely blend the scotch bonnet (if using), large onion and tomatoes. Add some water to aid blending. Pour blend in a sauce pan, add 1 cup of stock and allow to boil for about 10 minutes on medium heat. Then add the pieces of assorted meat. Allow to cook through for a further 5 minutes. Add some hot water to adjust consistency. Turn heat down and simmer. Avoid the sauce drying out.
In the meantime, add half a cup of warm water to the ground melon seeds in a bowl and mix into a paste. Heat palm oil in a separate pot. Add the finely chopped red onion, and add the melon paste in little scoops/dollops. Allow to fry, stirring continuously for about 2 minutes.
Slowly add the sauce from step 1 to the frying melon. Stir carefully and add another cup of stock. Stir well. Taste and adjust salt.
Then add the ground smoked crayfish and a handful of flaked smoked haddock. Stir all together and allow to cook for about 10 minutes under low heat. Lastly add the spinach. Stir well for even distribution. Taste for salt.
Simmer for another 2-3 minutes until spinach softens but not overcooked.
Serve hot with pounded yam. gari, amala or boiled rice.