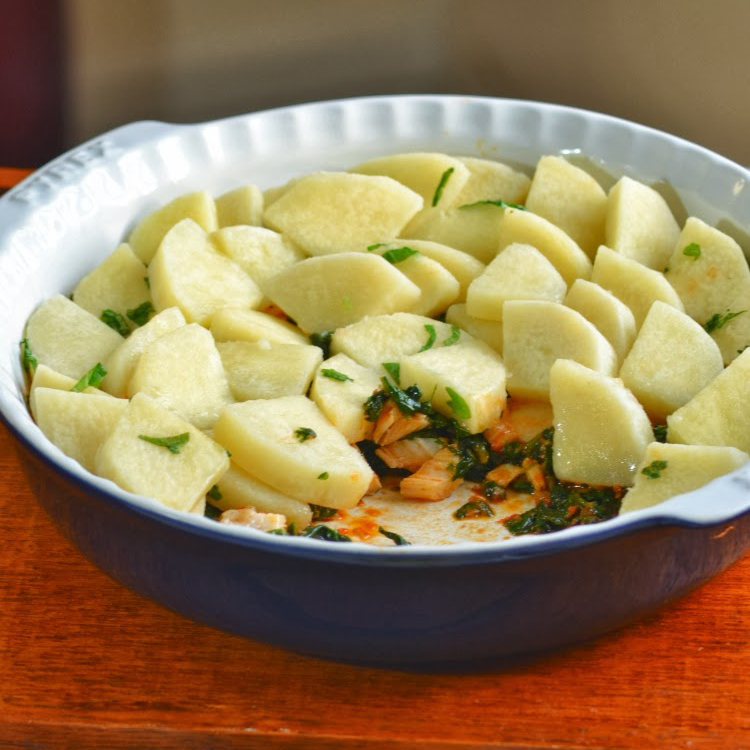 Ingredient List
Half a tuber of puna yam
2-3 bunches of broad leaf spinach
300g skinless cod/haddock (any other white fish can be used)
1 jar of Molli's Jollof cooking sauce (you can make some sauce using tomatoes, peppers, onions and scotch bonnet chilli.
Salt
Preparation
To boil the yam, peel it and wash thoroughly to remove traces of soil/sand. Slice the yam about half an inch thick, then cut each slice in to quarters. This will allow easy layering.
Pick the spinach leaves from the stems, and wash thoroughly to remove traces of sand. Blanch in hot salted water for no more than 2 minutes. Cool straight away by running cold water over the blanched spinach. As an alternative, you can steam the spinach or heat in the microwave for about 2 minutes, high power. Squeeze excess water out of the spinach and slice thinly. Then set aside.
Cut the fish into small bite-size chunks and wash if required.
In a sauce pan, empty the content of 1 jar of Molli's Jollof Cooking sauce or about 6 serving spoons of pre-made Nigerian style red pepper sauce.
Allow to sizzle and heat up and then add the fish chunks. Allow the fish to cook through then add the spinach. Stir well to ensure even distribution of sauce with the spinach. Add salt if needed.
Lower the heat and allow to simmer for about 5 minutes.
Simultaneously cook the yam pieces in some salted water. They should be cooked in about 5 minutes, Drain the excess water and serve with the stewed spinach.