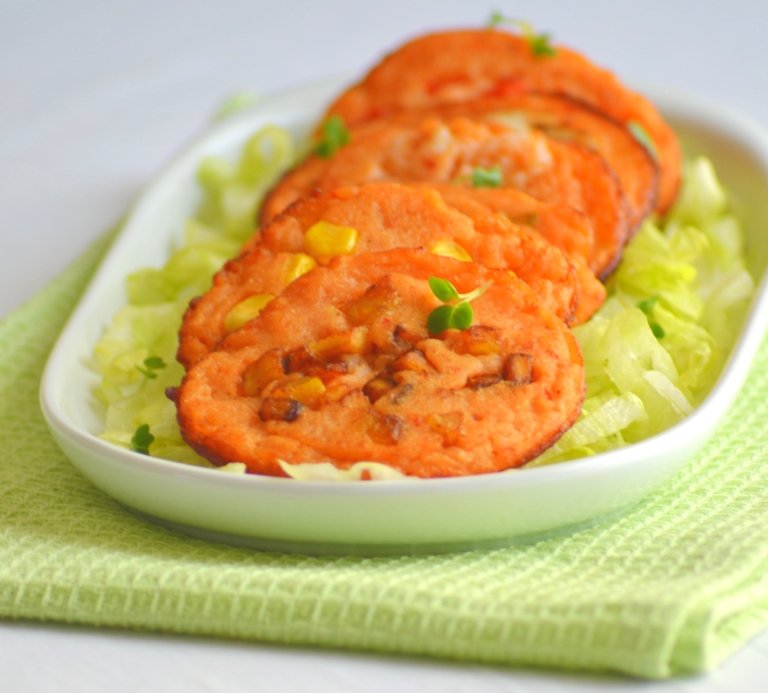 Ingredient List
2 cups of Nigerian Brown beans (black eye peas can also be used. Also some use already peeled beans but I rarely use powdered or bean flour).
1 ramiro pepper (tatase) or half of one red bell pepper
1 scotch bonnet (rodo) chilli pepper (optional)
1 large onion, cut into chunks (Beans and onions work so well together. The more the better but care must be taken not use too much. You must strive for a balance)
Some finely chopped smoked mackerel fish
Some sweetcorn
Some freshly chopped spring onions
Some peeled shrimps/prawns
Some finely chopped fried plantain
Some coconut oil for frying
Some smoked ground crayfish (optional)
Tomato paste
1 large egg
Some stock granules (optional)
Salt to taste
Preparation
Soak beans in water for about 30 minutes. This will make peeling them easy. Rinse off all brown skin of the beans to leave the white shells.
In a blender, finely blend the beans, onions, pepper and chilli (if using). Add a cup of water to aid blending, add a little more if required. Take care not to create a watery loose blend.
Empty the content of the blender into a large mixing bowl. Proceed to mix the blend continuously for about 3-5 minutes. Believe me this creates a really good texture for the akara. Then add the egg and mix well again. The egg makes the akara hold together better. Also add 1-2 spoonfuls of ground smoked crayfish if using, 1 spoon of tomato paste, one or two spoonfuls of stock granules and some salt to taste. Give it another good mix and add some water to adjust the consistency. Your final mix should have the same consistency as a pancake batter.
Use a really small frying pan such as a blini pan for frying. This helps to regulate the amount oil you use and also helps you achieve the miniature size of the akara.
Heat 1 spoon of oil in the blini pan and scoop some akara mix in the pan. Allow the akara to cook on one side and top with shrimps, chopped onions, chopped mackerel, sweetcorn, plantain (or any other toppings your prefer) in turns. Flip the akara to enable all sides to be well cooked and browned. When cooked, place on some kitchen towel to remove any excess oil. Serve on a bed of crisp salad leaves.